Reviews

What Our Clients Are Saying
Legal Authority has helped thousands of attorneys and law students find new opportunities and new careers throughout the country. You would think that we have heard every possible story by now, every set of circumstances that led to success; but no, we haven't. Every client is different, and each one spins a different tale of his or her job search—pitfalls, promising opportunities, and philosophies.

Legal Authority would like to share some of these stories with you. While these can't indicate the level of success that you will necessarily have in your job search, they are certainly an indication of how people like yourself have felt about our service and product. Hopefully your letter can join these ranks soon!



Dealing with customer service is easy

Legal Authority really worked well for me. My Employment Advocate was great. He gave me really sound advice about my resume and cover letter. The writing process took a while, but went very well, and my resume and cover letter looked great. I got a job offer from one of the contacts, and when I called my Employment Advocate, he gave me great advice about negotiating. I am now working and would definitely recommend the service to my colleagues.
-Dana
Sent 300 letters, got 3 interviews within one week, and 8 days after sending the letters I had a great offer. I love the firm and the environment. I am enjoying my new job immensely and the location is so perfect. Thank you again for all your help. I could not have done this without you or your company.
-Angela
Legal Authority gave me a chance to get my name and experience out there. The resume you did for me was such a good representation of my expertise. I had eleven interviews and several job offers.
-heather
+ read more




Legal Authority is effective

I wanted a job in Texas. I sent out 700 letters on Monday afternoon and got my first call on Tuesday morning at 8:00 a.m.!! So far, I've had 11 interviews! Thank you so much for all of your work.
-Kim W.
I was very, very hesitant about Legal Authority. It sounded like a good idea, and the marketing seemed great. Still, I was afraid that that was all that it was--just marketing. So I talked to an Employment Advocate and then waited about a week before getting started. During that week, I asked everyone I knew about Legal Authority. What finally helped me with my decision was that an associate at the law firm that I was clerking at told me that he used Legal Authority. I did not even tell him that I was looking for a job, but when he heard that I was, he called me in the office and told me about "the best-kept secret." He said Legal Authority had gotten him his last two jobs and he was planning to use them again in about six months. So I used the service and sent out 550 letters in New York. In about one week, I had set up six interviews, turned down three, and still had requests. I have just taken a job in the city of my dreams at a firm I love! Thank you, Legal Authority!
-C.B.
Moving back to New York from Los Angeles to do entertainment law seemed like a pipe dream to me. Legal Authority helped me send out hundreds of letters, and I got two interviews and a great job with a great entertainment firm.
-Mike S.
+ read more




Legal Authority Exceeded My Expectations

I tried my own mailing, but marketing myself did not work. The counselor I spoke with explained how sending out 20 or 30 letters randomly isn't even worth my time. I turned the reins over to Legal Authority and you helped me send out 560 letters throughout the Bay Area. I got six interviews and a solid offer. The firm is great, and I never would have found it my way.
-Jennifer R.
I had no future in financial advising, so I made the decision to go back to school and get my law degree and LLM from a top 25 school. I still had trouble finding work until I did the mailing with you. Now I have several interviews lined up and I am starting to feel like I did not just waste the last 5-6 years! I appreciate your product.
-Jennifer P.
I was determined to get out of the city and find a small town to make my home, but there is no way I would possibly have found a job here without your incredible service. You truly have EVERY law firm in the nation listed.
-J.K.
+ read more




Legal Authority is Much Better than other Methods of Looking for a Legal Job

Some people said that because I went to a top-10 school, I didn't need any extra help outside of the career services office (actually, I think those people worked for the career services office). But they did not get me any interviews, and you did. Thank you so much.
-Cara
I obtained employment through Legal Authority's service. I doubt I would have been able to do this on my own. Thank you very much!
-Michael S.
As a third-year law student, I tried marketing myself and got nowhere. I needed serious help to find a patent job, and my Career Services Office was useless. I used your company to send out 650 letters to patent firms, and I've gotten interviews and serious offers on the table already.
-Amy Z.
+ read more




Legal Authority Worked for Me

I mailed over 400 resumes yesterday. Today I received my first phone call to schedule an interview, less than 12 hours later!!!! I must admit, I was a little skeptical about the quick turn around time for responses as indicated by the testimonials of Legal Authority's previous customers. However, I am proud to say that the process really does work!! I will keep you posted. Thanks in advance!
-Theresa H.
I didn't think I had a chance in NYC, since I went to Tulane, but I've gotten two interviews so far! There are almost 100 firms that I haven't heard anything from, and I'm still waiting on these two firms to come through with a decision. I think both interviews went really well, though, especially because one of the people I spoke with was originally from New Orleans! I'm really happy with the resume and cover letter, and I've got several friends who I know will be calling you shortly. Thank you!
-Nicole
Thank you for the help. I just got the job with a mid-sized firm I'd always dreamed about. They're actually paying all my moving expenses from D.C. and my BarBri fees for the California Bar. I couldn't have done it without your help. Thanks.
-A.P.
+ read more




Legal Authority is a Good Value for Money

I sent out 150 or so resumes to Colorado with your service six months ago and got three interviews and two offers. I love my firm and the job, but my wife hates the cold. I need you again; let's look somewhere warm! Please contact me soon. You guys were the best investment!
-Russ
I would like to thank you for all of your help during this process. I truly could not have done it without you or Legal Authority. Given the nature of the profession, I believe that an attorney looking for a job must consider Legal Authority a necessary, indispensable service. The cost is money well spent. As a person who tried to find a job on his own once, my advice to others is: don't do it. Your likelihood of finding the best position is drastically reduced. After using Legal Authority, I received 10 requests for interviews! For this reason, I was able to make an informed choice that best suited me, rather than settle for a firm because it was the only one that offered me a job. I can assure you, this is a much better position to be in. I intend to recommend Legal Authority to all of my friends in the profession who are looking for other positions.

Thanks again.
-Mike M.
Thanks to Legal Authority, I went from a $35K paralegal at a top firm to an actual attorney making $80K at a mid-sized firm. I'm getting to do the IP work that I wanted, and I got several interviews out of the 300 or so letters I sent out. This was one investment I'm proud of. Thanks.
-T.H.
+ read more





Sign up for a "

Free

, No Obligation Resume Critique" and "

Free

Market Evaluation". Let us tell you how much potential you have!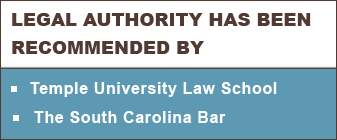 Reviews
What Our Clients Are Saying
I have been so impressed with Legal Authority. The service that I have received has been outstanding, and the materials that I have been provided with have been above and beyond what I expected. I thi...
- Andy R.

Who says you can't find a needle in a haystack? With my Legal Authority mailing, I batted a thousand -- got one interview and one offer, and it was in entertainment law, which my Career Services Offic...
- Jeff F.

Legal Authority is THE place to begin any legal career search. I was moving from out of state and unsure of my prospects. After Legal Authority polished up my resume and I sent it out with their help...
- B.B.

MORE



Featured Advice
Featured Advice

5 Biggest Attorney Job Search Mistakes
Attorneys and law students are one of the most ill-informed groups of people there are when it comes to conducting a job search. MORE

Legal Authority Outplacement Program
Give your attorneys the most opportunities.
Making economic or strategic adjustments in personnel can be a tough decision for any firm... MORE

Law Student Wins with Legal Authority
How a highly successful Manhattan law firm associate auctioned himself off to the highest bidder... MORE

For Employers
Legal Authority's Comprehensive Employee Outplacement Program.
Give your attorneys the most opportunities. MORE


Our Database and Technology
Legal Authority's Comprehensive Database and Advanced
Search Engine. MORE

National Advertisement
Legal Authority and National Media
Take a sneak peek at the marketing strategies of Legal Authority. MORE





Get the best legal jobs through Legal Authority.
Click here to understand the simple process and utilize our services to the maximum.


Get on Track
Get on Track




Articles By Harrison Barnes From
BCG Attorney Search